Redefining the future of Travel CRM
TraveLite is natively developed on the Salesforce CRM platform and designed to optimize the operations for companies in the travel industry, empowering them to better serve their customers through digital transformation, streamlining the sales process and providing a personalized customer experience.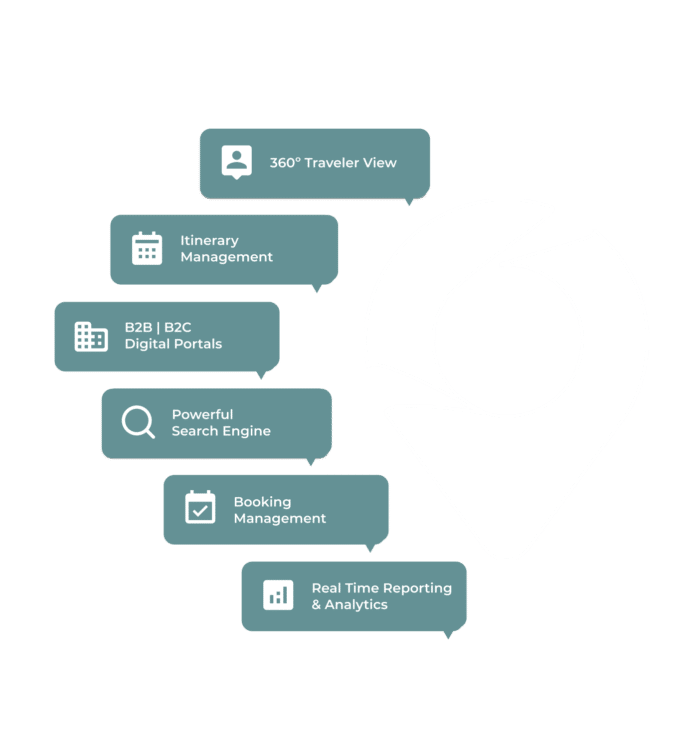 A cutting-edge solution crafted by travel, CRM, and technology experts, exclusively for the travel industry.

Our solution empowers ambitious and forward-thinking players in the travel industry to better serve their customers by providing access to digital channels, streamlining business and operation processes, gaining a deeper understanding of customer profiles and preferences, and offering tools to personalize the customer journey. With Travelite, businesses can enhance their customer service capabilities and deliver exceptional experiences throughout the entire customer lifecycle.
Build a lifelong relationship with your customers through personalized services

Seamlessly Scale Your Business
Increase in Travel Agent Productivety
Unlock the Power of Customer Insights
Get to know your travelers on a deeper level and deliver exceptional service with Traveler 360° view.
By centralizing all customer information in a single location, such as contact details, purchase behavior, travel history, preferences, loyalty programs, and memberships, you'll gain valuable insights to create personalized itineraries and experiences that cater to their unique needs.
With this knowledge, you can offer timely recommendations and create unforgettable travel experiences that leave a lasting impression.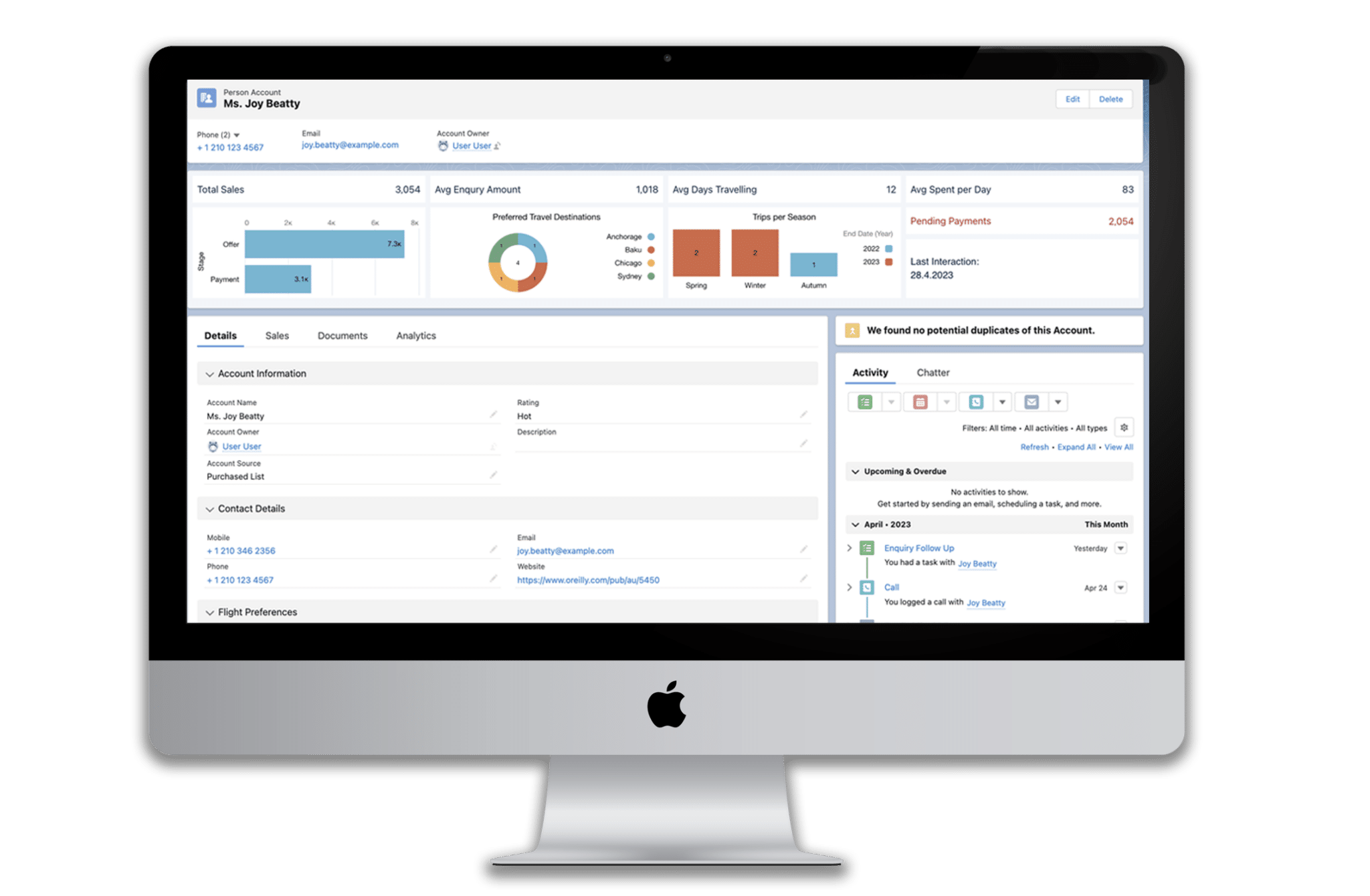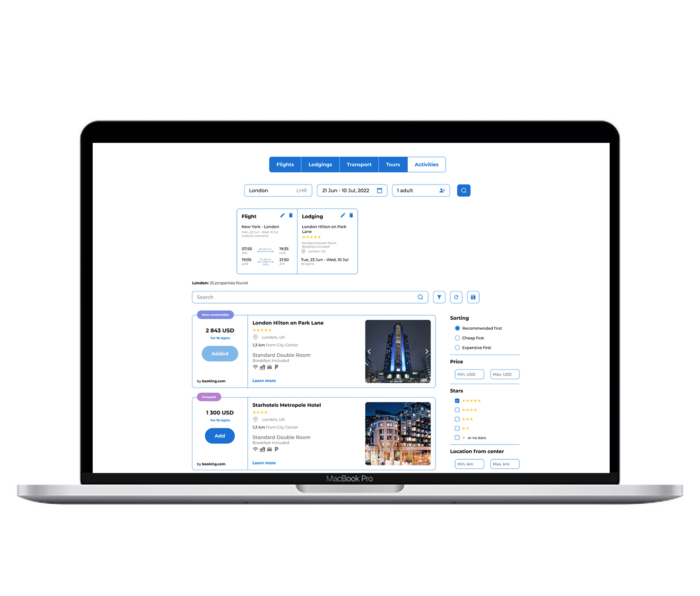 Game-changer for Travel Management
Search for flights, hotels, tours, activities and other services from a variety of sources, all in one place.
The search engine capabilities enable you to compare prices, flight routes, hotel amenities, and experience options from multiple providers, giving you access to a wider range of choices. 
Filter results based on specific criteria, such as price range, preferred airline, or hotel rating.
B2C | B2B Digital Portals
Easy and dynamic Interface
Unleash the true potential of your organization with cutting-edge digital portals. With our solution, you can easily set up a portal or app for external users such as partners, resellers, corporate customers or suppliers. 
Leveraging standard functionality, we provide a user-friendly interface that enables efficient communication and streamlined booking and online payment processes for your external stakeholders. 
Enhance engagement, simplify interactions, and unlock new possibilities with our tailored portal solutions.
Revolutionize your Customer experience and drive growth for your organization.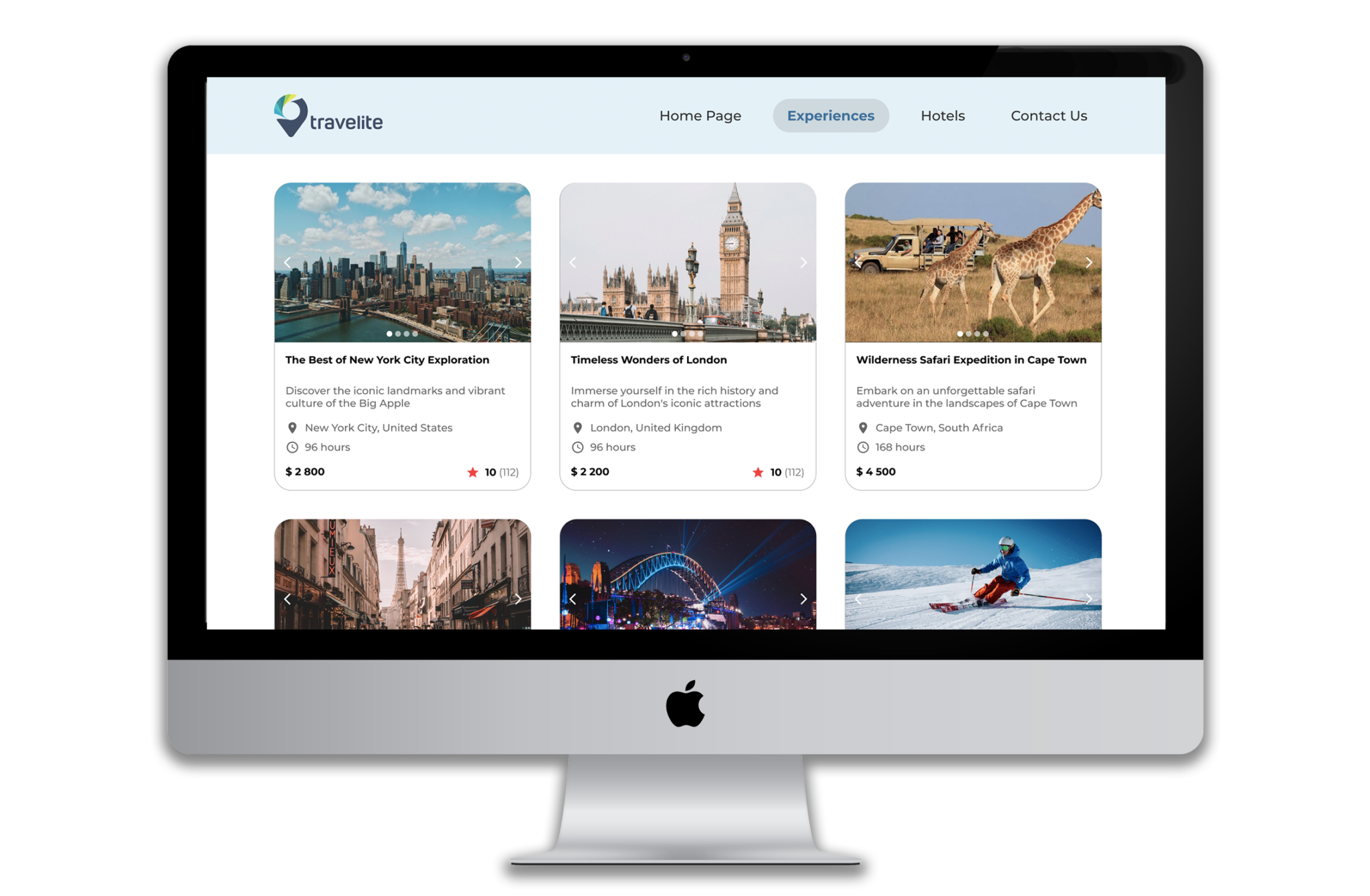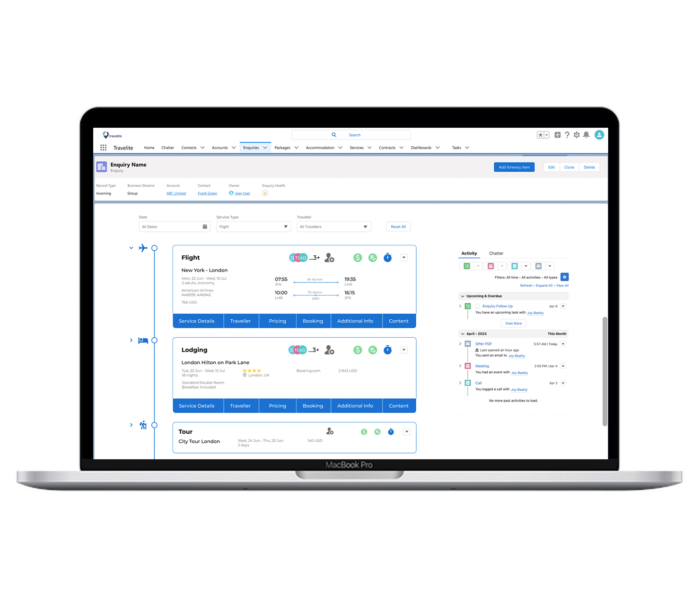 Personalized traveler experience
Create Breathtaking Itineraries & Travel Documents
Amaze your travelers with modern-looking and information-rich itineraries. Our solution generates breathtaking itineraries and travel documents that provide a personalized travel experience for your customers even before the trip has started. Now you can swiftly and seamlessly create customized itineraries that cater to your customers' unique preferences and needs.
Real-time reporting and analytics
Our robust travel industry solution offers advanced reporting and analytics capabilities, empowering you to stay informed and in control of your business performance. 
With real-time tracking of sales, bookings, and revenue, you can gain instant insights into key business metrics and make data-driven decisions that drive growth.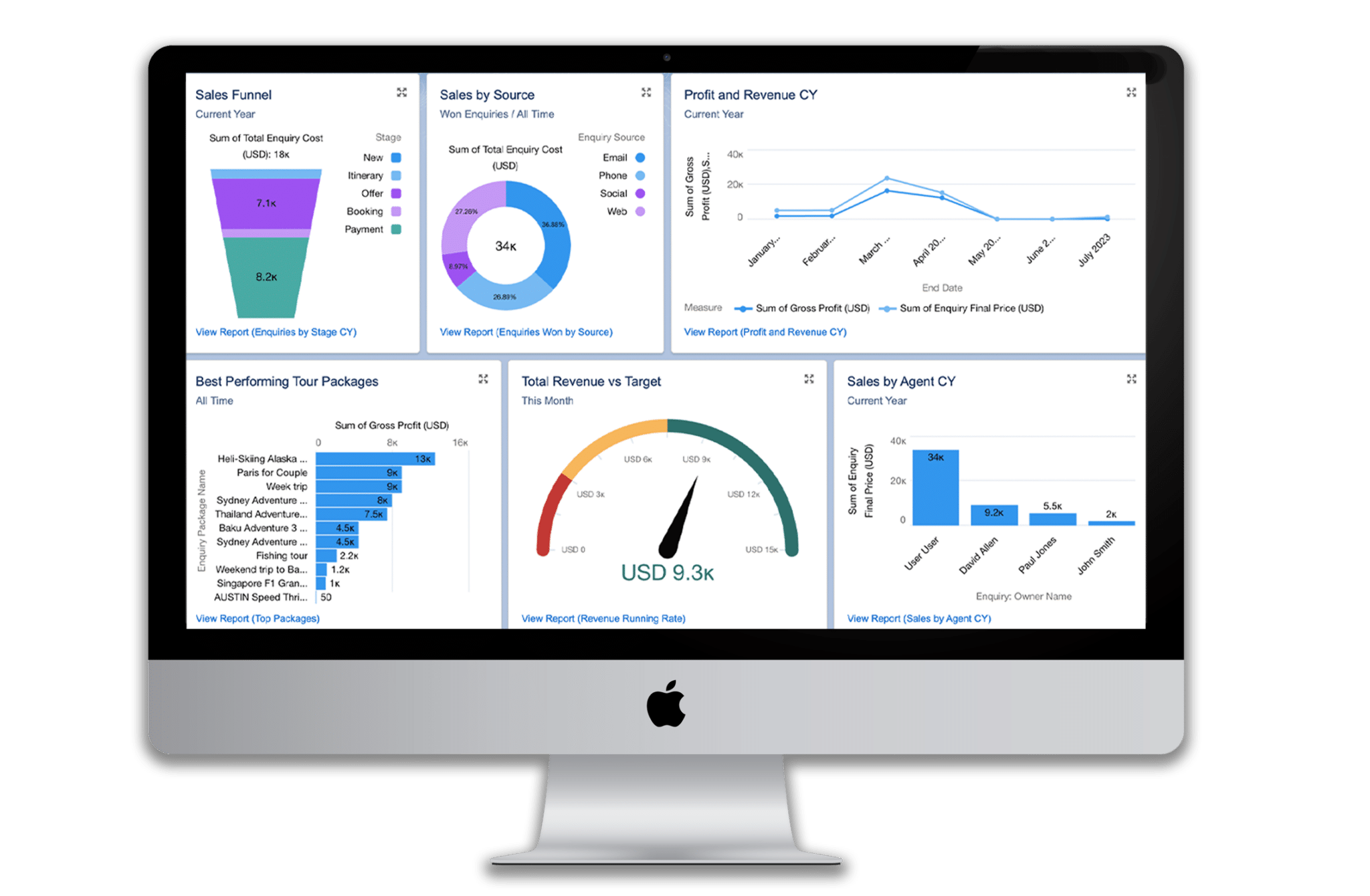 Travelite offers easy and flexible integration with other leading solutions in the market.
Our platform supports open standards APIs, facilitating smooth integration and seamless connectivity with various pre-built travel industry platforms. And, as Travelite is built on Salesforce, you have the flexibility to explore a diverse selection of world-leading software applications and select the ones that align with your specific requirements.
In case you can't find the specific integration you are looking for, feel free to reach out to us, as we already might have it in our roadmap or be interested in adding it to our suite of integrations. 
Harness the Power of Salesforce
The Leading CRM Platform
Scalable platform that can handle large volumes of data and users. It offers a reliable infrastructure, ensuring high availability and performance
Salesforce offers a high degree of flexibility through its customisable features, extensive integration capabilities, and a marketplace of pre-built applications, allowing businesses to tailor the system to their unique needs.
Robust security features to protect sensitive data and maintain compliance with industry standards and regulations. It offers advanced user access controls, data encryption, audit trails, and supports compliance certifications such as GDPR and HIPAA.
API's that allow you to connect with existing business processes, databases, and external services, facilitating data synchronisation and enhancing overall functionality.
Our Customers Drive Digital Transformation with Travelite
Our Testimonials Validate Our Global Expertise and
Exemplary Customer Experiences
"Starting from scratch is not a challenge when working with Nubessom. I was delighted to experience their proactive approach to our problems and their determination to effectively derive a solution from workshops even with groups that are not tech-savvy. The advantage of working with Nubessom is that they simply meet your business needs and help you achieve goals."
"Travelite is a game-changer in CRM and guest relations management. Ready templates and available tools allow to minimise development and customization efforts, as most of the requirements are already met within the core solution functionality. Travelite and Nubessom team is comprised of highly experienced experts who are skilled in understanding clients' business needs and very supportive in shaping the solution functionality to meet all client expectations."
"After operating for years without a proper solution for our CRM and online booking system, we are glad to have found Kanan & Nazim from Travelite. They have been great helping us to fit travelite to our business and have been an amazing team to work with. Highly recommended for business in the travel industry."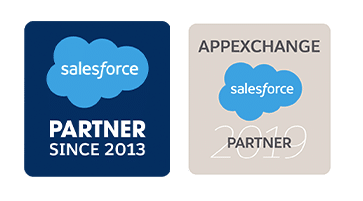 TraveLite is powered by Nubessom, consulting and software development company with more than 10 years of experience helping medium to enterprise level companies to maximise their business potential and streamline processes. 
Our team consists of travel industry experts and consultants, as well as IT professionals who have combined their expertise and knowledge to create the best-in-class travel CRM solution.